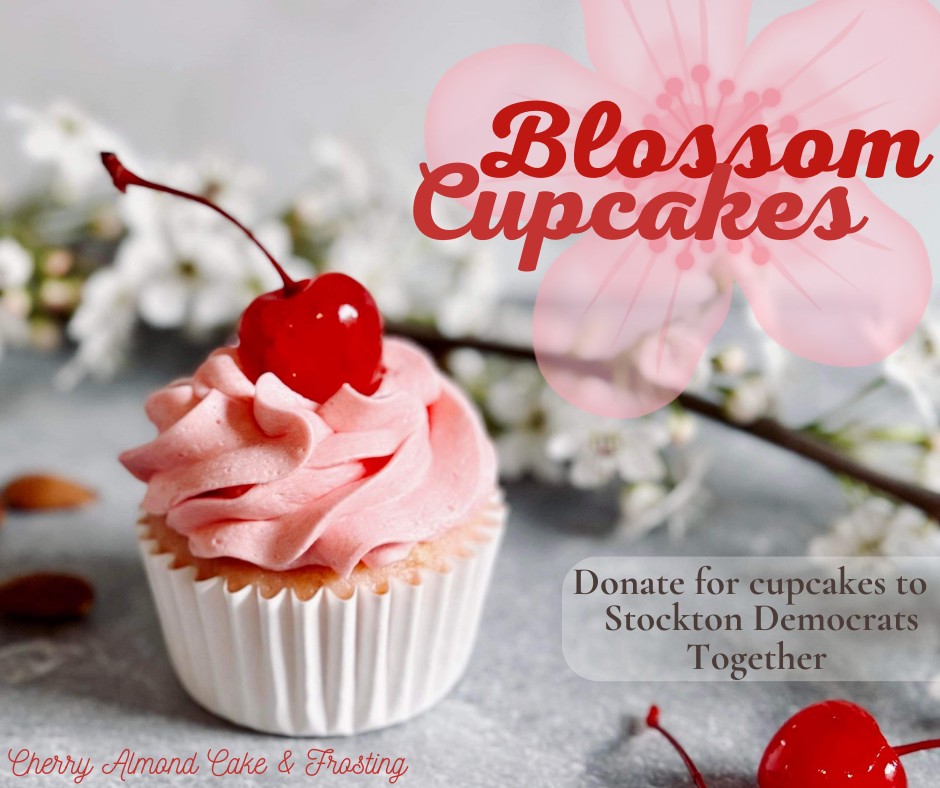 We are so excited to announce that we have partnered with Bake Back Better to host a cupcake fundraiser!
Bake Back Better is a phenomenal group of volunteers based in the Bay Area that raises money for progressive organizations. We are incredibly grateful for their support.
For a $35 donation, we will deliver 4 homemade, cherry almond cupcakes. Bake Back Better volunteers will be baking and delivering in the SF Bay Area while Stockton Dems will be baking and delivering in the Stockton area. (If you are interested in volunteering to bake or deliver cupcakes in the Stockton area, please let us know!) Bay Area folks will also have the option to add on a cherry themed 3-cookie set for a minimum donation of $100.
DONATE HERE: https://secure.actblue.com/donate/bbbstockton
Donations will go toward supporting the formation of a Stockton Dems GO Team, modeled after the Tracy Dems voter registration/canvassing program. Stockton voters are inundated with misinformation, and having face-to-face conversations with voters will be the best way to build relationships and educate the community about local issues. We are excited to continue the momentum from the last election and build a solid Democratic bench in Stockton.
Deadline for cupcake orders: Thursday, March 16th
Delivery window: March 19th-22nd
Delivery Areas: SF Bay Area and Stockton (and surrounding areas: Lathrop, Tracy, Lodi, Mountain House, Manteca, French Camp, Lockeford, Woodbridge, Morada)
Please donate and then spread the word to your cupcake-loving friends!